Hey Book Nerds!
It's been a while, I know. This semester of college has been the busiest and most stressful semester that I have ever had and because of that, I  have not been reading at all simply because I just have not had the time. When I do have the time, it's usually because I am procrastinating and not doing the work I need to be doing so every time I would go to read, I would feel guilty for not doing my work and would just end up not reading at all. However, I am working on a schedule so I can finally get my life in order and I am hoping to possibly make more time to read and post on this blog. Right now, I am looking at scheduling one post a week every Thursday. Hopefully, I will be able to do two a week, but as of right now, you can expect a post from me every Thursday (yes, I am aware today is not Thursday, but this is a post I needed to get out). Also, with Thanksgiving break in the U.S. coming up in a few weeks, I will have a week off of school, so I am hoping to get some reading done that week. Now, on to the more important and exciting part of this post- my October book haul!
Around the end of October, my parents came up to Pennsylvania to visit me for a few days and during those few days, we took a trip to Lancaster. While we were there, I did some book shopping. I technically only bought one book in Lancaster and then the rest of the books came from Harrisburg.
While we were in Lancaster, we stumbled upon this store called "The Book Warehouse", so naturally, seeing "book" and "warehouse" together, I made my parents stop there to let me explore. All of the books in this store were discounted, and I mean severely discounted. The book I got was 60% off of the publishers price. So, here is the book that I bought at The Book Warehouse:
Between the Lines by Jodi Picoult and Samantha Van Leer
I have been interested in reading this book for a while now and when I saw it at The Book Warehouse for 60% off of it's regular price ($12.99), I had to pick it up. I ended up getting this book for $5.20 before tax, which is a great deal. This book is literally about a book. This book follows our main character Delilah who loves to read and rereads a certain fairy tale constantly. She loves the story and then one day, she discovers that this story is actually real.
Goodreads link: https://www.goodreads.com/book/show/12283261-between-the-lines?ac=1
While we were in Lancaster, I found a brochure for this giant bookstore in Harrisburg, so on our way back to my school, we stopped in Harrisburg at The Midtown Scholar Bookstore. This bookstore was 6 levels of floor to ceiling books. 6 LEVELS. It was absolutely beautiful and it was any book lovers paradise. They had just about every genre of book imaginable. If you are ever in the Harrisburg, PA area, definitely go visit this incredible bookstore. The way this bookstore works is all of their books are priced based off of Amazon. They take a book and find the cheapest price of the same edition and condition that their book is in and match that price. So, for example, if they have a book that is considered to be in "good" condition and the cheapest price on Amazon for that condition is $5.00, that's what they price the book at. So, you can either get some amazing deals there or you can wind up paying way too much. But all the books I bought were pretty good deals. Here are the books I bought:
Dead Until Dark by Charlaine Harris (Book 1 in the Sookie Stackhouse series)
The version I bought was the one with the bright pink cover in mass market paperback edition. I ended up getting this book for $4.95 and it is in perfect condition.
Goodreads link: https://www.goodreads.com/book/show/4602032-dead-until-dark?ac=1
Nights in Rodanthe by Nicholas Sparks
I ended up getting a perfect condition hardback of this book for $5.95 so I obviously could not pass up this book, especially since I am collecting all of Nicholas Sparks' books.
Goodreads link: https://www.goodreads.com/book/show/15926.Nights_in_Rodanthe?from_search=true&search_version=service
Between Here and Forever by Elizabeth Scott
I ended up getting this book for $7.95 in hardback and I am pretty sure this book was never even read. I read Living Dead Girl by the same author a few years ago and loved it, so when I saw this book for a good price, I had to buy it.
Goodreads link: https://www.goodreads.com/book/show/9559665-between-here-and-forever?ac=1
Harry Potter and the Sorcerer's Stone by J.K. Rowling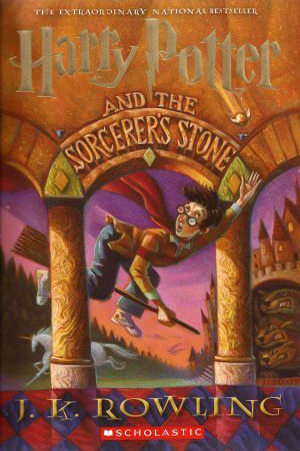 Now, I know what everyone is probably thinking: "Brittany, don't you have a least two different versions of this entire series like everyone else on the planet?" The answer to that is no. Don't hate me, but, I have never actually read Harry Potter… I know, I know, that's crazy right? Well, when these books were coming out, I was very young. I was only two years old when Harry Potter and the Sorcerer's Stone came out. Also, I hated reading when I was younger so I would have never read them any way. When these books were coming out, my sister was reading them and I remember her reading parts of Sorcerer's Stone to me and being absolutely bored out of my mind, but I was also 6 years old at the time. Why didn't I read them when I was older? Well, because I hated reading until I was about 13 and even then I was reading maybe two books a year, if that. So, I was intimidated by huge books because it would take me months to read a 200 page book. Now, I can read a 200 page book in a day, so I think I am finally ready to make this commitment and tackle this series. So, when I saw this never-been-read hardback for $8.95, I decided to just buy it and get on this Harry Potter bandwagon that I am very late to. Better late than never, though. Right?
Goodreads link: https://www.goodreads.com/book/show/3.Harry_Potter_and_the_Sorcerer_s_Stone?ac=1
There you have it. Those are all of the books I bought in October. Let me know your thoughts on any of these books and I will be back Thursday (maybe sooner) with another post. Until then, I hope you all have a wonderful weekend and get lots of reading (or Netflixing) in!
Brittany
*Disclaimer: All images came from Goodreads.com*